UW International & English Language Programs
Arrival & Orientation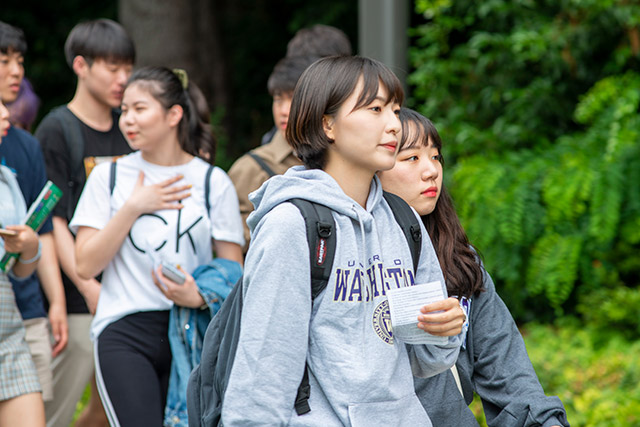 Congratulations on being accepted into an International & English Language program at the University of Washington! What else do you need to know as you prepare for this adventure? The information below will help you make the transition to your new program and life in Seattle.
Planning for Your Arrival
1. Choose Your Arrival Date
If you're on an F-1 visa, you can arrive in the United States up to 30 days before the program start date listed on your I-20.
We suggest planning to arrive at least a few days prior to the start of orientation for your program so that you have time to get settled and get used to the Seattle time zone.
If you have problems getting your visa on time or with your flight arrangements,  contact us immediately. We'll let you know if you can arrive late.
2. Purchase Your Plane Ticket
If you plan to arrive in Seattle on an international flight, purchase a ticket that flies to Seattle-Tacoma International Airport, the airport closest to the University of Washington main campus and downtown Seattle.
If you choose to purchase an airline ticket that includes a connecting U.S. domestic flight, you have two arrival airport options. You may arrive at Seattle-Tacoma International Airport, or Paine Field Airport in Everett, Washington.
Both airports offer multiple ground transportation options. See the Arriving in Seattle section for more details.
3. Arrange Housing
Check out your housing options.
If you've arranged to live in a UW residence hall or apartment or in an off-campus apartment, make sure you know your move-in date. The UW residence halls and apartments are usually not open during the breaks between academic quarters. They may still be closed if you arrive before your move-in date.
If you don't have a place to live right away when you arrive in Seattle, you'll need temporary housing, such as a motel or hotel. We recommend you make reservations in advance. See the Short-Term Housing  page for more information and listings of some local options.
4. Pack Important Documents
We recommend that you carry all of the following documents with you while traveling:
I-20 form, passport and visa
SEVIS I-901 fee receipt (you may be asked to show proof of payment at the U.S. port of entry)
Copy of acceptance letter or other evidence of admission from UW IELP
Proof of finances: bank statement and letter of sponsorship (if sponsored)
Arriving in Seattle
What to Do at the Airport
When your flight arrives in Seattle, you'll go through the following steps:
1. Pass Through Immigration Review
U.S. Customs and Border Protection officials will need to see your passport, visa and I-20 (for F-1 visa holders). They'll ask you some basic questions about the reason for your visit. You'll also need to fill out some paperwork. Before you leave the airport, make sure that you received an entry stamp in your passport. If you did not receive an entry stamp, bring your passport back to the U.S. Customs and Border Protection officer who processed your documents to obtain one.
2. Collect Your Checked Baggage
Follow the signs to the baggage claim area to get your luggage. There will be a conveyor belt at the claim area marked with your airline and flight number. You may have to show your baggage claim ticket before exiting the area with your bags.
3. Pass Through Customs
After you collect your baggage, you'll go through Customs. Remember: You cannot bring fresh food or plants into the United States. For more Customs information, visit the  U.S. Customs and Border Protection Travel  page.
After you are processed through Customs, proceed to the main airport terminal to get transportation into Seattle.
Find Ground Transportation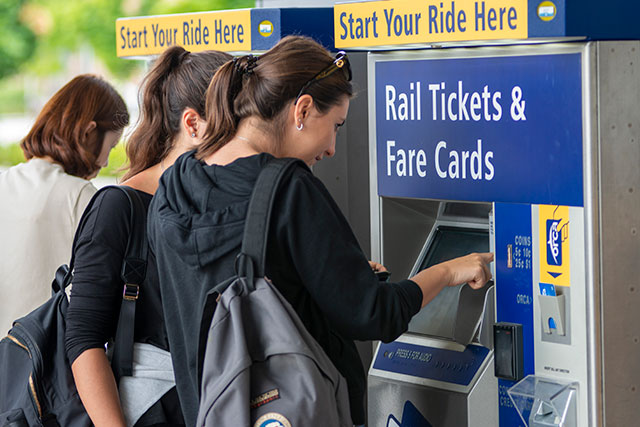 The UW IELP office does not provide airport pickup. Here are a few options for ground transportation  from Seattle-Tacoma International Airport:
Link Light Rail:  There is a railway station at the airport, connected to the fourth floor of the parking garage, where you can catch a train directly to downtown Seattle or to the University of Washington.
Shuttles and Courtesy Vehicles: There are a number of shuttle services that provide shared transportation from the airport to your destination; most of these depart from the third floor of the airport parking garage. If you are temporarily staying at a hotel, you may be able to catch a courtesy vehicle from the same area of the garage that will take you there — check with your specific hotel.
Taxi and App-Based Rideshare: A more expensive option is to take a cab or a rideshare from the airport. Uber and Lyft are popular rideshare options. Look for the Travelers' Information Boards near the baggage claim for more information about these services, or go to the Ground Transportation booth on the third floor of the parking garage.
If you're arriving at Paine Field Airport, shuttles, courtesy vehicles, taxis and app-based rideshares are also available.
Orientation and Welcome Receptions
Many of our programs have a required orientation session and/or a welcome reception; check your acceptance information to see if your program has one or both.
The orientation session allows you to learn about and ask questions regarding your program, courses, immigration issues, health and safety, banking and overall life in Seattle. The welcome reception gives you the chance to meet your fellow students, the instructors and our staff. Please attend!
Our Climate and What to Wear
Because Seattle is located between two mountain ranges and on Puget Sound, the weather can be unpredictable. The overall climate is temperate, with low humidity and few extremes of temperature. The rainy season lasts from November through May or June, and there is usually little or no snowfall. Summers are generally warm and dry.
This chart shows typical seasonal temperatures in the city.
| Season | Average Temperature |
| --- | --- |
| Autumn (Sep, Oct, Nov) | 54°F (12°C) |
| Winter (Dec, Jan, Feb) | 40°F (4°C) |
| Spring (Mar, Apr, May) | 51°F (10°C) |
| Summer (Jun, Jul, Aug) | 70°F (21°C) |
Here are our recommendations for clothing:
Pack an umbrella and a raincoat. It rains or drizzles in every season.
Bring sweaters and light jackets or sweatshirts for all seasons, plus a heavy jacket for the winter. Layers can be helpful as the weather changes from season to season.
Bring light clothing for the summer. Cotton pants and shorts, T-shirts and dresses are good choices.
Like other cities on the West Coast, dress and lifestyle are casual in Seattle. Most students typically wear jeans or shorts along with T-shirts or casual tops to class and for exploring the city. Athletic clothing is also popular.